St. Louis is a city that loves life. This city celebrates and supports the arts, history, music, nature and education. And this is one generous city, the best thing about living in St. Louis is the bountiful amount of free rad stuff to do and lush parks aplenty.
Shop
Another thing I love about this city are the shopping hotspots with of oodles of small, locally owned businesses. Closest to the city center/downtown is historic Soulard [Soulard] and it's popular Farmers' Market [730 Carroll Street, St. Louis]. Cherokee Street [Cherokee St] is known for its many antique shops. Retro 101/Cherry Bomb Vintage [2303 Cherokee Street, St. Louis] is definitely a cool spot to hit up. The Delmar Loop [Delmar Loop, University City, MO, USA] is another great place with tons of shops and restaurants and a fun atmosphere to just stroll around. Stop by Vintage Vinyl [6610 Delmar Boulevard, St. Louis] and check out their tangible selection of albums. South Grand [S Grand Blvd] has a gem of a bookstore, Dunaway Books [3111 South Grand Boulevard, St. Louis], as well as some pretty fine Vietnamese eats which I'll get to later.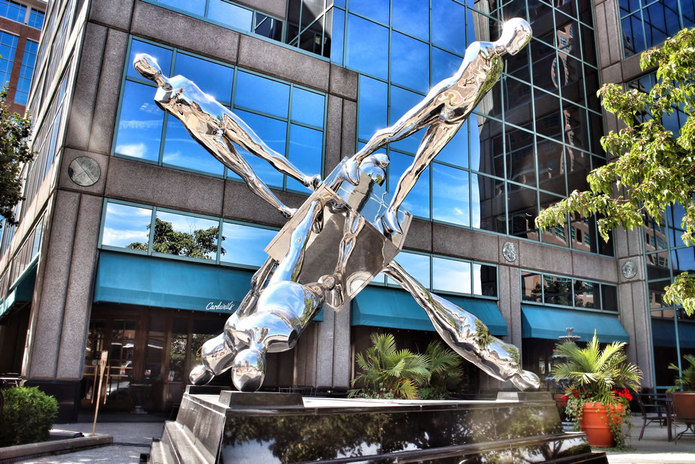 When shopping for craft supplies in St. Louis, the first place to start is The Upcycle Exchange [3206 South Grand Boulevard, St. Louis]. A place where crafters can destash and restash. They have a little of everything and lots of interesting stuff that instead of ending up in a landfill awaits the right crafter to 'upcycle' it into something amazing. They have just upgraded and moved their store to Cherokee street. The creative genius behind Strange Folk Festival is also the curator of this fine shop. Other favs include Schaefer's Hobby Shop [11659 Gravois Road, St. Louis], they have an incredible selection of Swarovski crystals and natural gemstone beads plus tons of other supplies, not just for the beader. We all know the names of the big chain stores and St. Louis is full of them. But my favorite place for shopping for treasure or craft supplies is Savers Thrift Store [10899 Lincoln Trail, Fairview Heights] as well as garage and estate sales. I love the thrill of the hunt.

The greater St. Louis area has more craft shows than you'd know what to do with, whether you're shopper or crafter. There are options for the just-starting-out -micro-crafters (like myself) on up to professional artists with well established businesses.
The big one this year is going to be The Strange Folk Festival, recently relocated to Union Station [1820 Market Street, St. Louis], which has a unique look and rich history. Strange Folk grew from a local town park craft fair to this magnitude in 10 years, thanks to creative genius Autumn Wiggins. Strange Folk already has over 5,000 RSVPs on their Facebook event page! If you're in town, look for me Late Bloomer Handmade hidden within the Happy Bakery's shop.
Other larger shows are the Rock and Roll Craft Show, Art on the Square and the Handmade Marketplace Craft Show. There are also lots of outlying towns that have yearly arts and craft fairs at their high schools or YMCA which draw in substantial crowds.
There are also tons of small shops that offer consignment.
---
Inspiration
St. Louis has a free Zoo [1 Government Drive, St. Louis], free museums and we even give out free beer, no joke (keep reading, i'll tell you where). This city has something for everyone, on any budget. Whether you have kids, no kids or you're a kid at heart, you can't be bored in St. Louis. Plus we even have pretty boss public transportation. One of my favorite places is Forest Park [5595 Grand Drive, St. Louis]. This It's almost twice the size of Central Park and has some of the city's top free attractions within it. The Saint Louis Zoo [1 Government Drive, St. Louis], The Missouri History Museum, The St. Louis Art Museum, The Muny Ampitheater and The St. Louis Science Center are all in Forest Park and are all free. It has the Kennedy Memorial Forest, lakes, trails and plenty of open space for picnicking and relaxing. Plus there's even more eye candy at the Jewel Box and the World's Fair Pavillion. There's even a 75ft waterfall near the Art Museum. That's just one park, and I didn't list everything. You could come to St. Louis and spend an entire vacation just in Forest Park.
There's so much to St. Louis. It's truly a great place to live.
It's hard to find a spot without inspiration in the city. There dozens and dozens of lush parks and also the numerous free museums. The Saint Louis Art Museum [1 Fine Arts Dr, St. Louis, MO 63110, United States] and Laumeier Sculpture Park [12580 Rott Road, St. Louis] are a good place to start. Then there's the Butterfly House and Botanical Gardens [4344 Shaw Boulevard, St. Louis], also rich in beauty. The St. Louis Arch Arch [100 Washington Ave, St. Louis] of course. The City Museum [750 North 16th Street, St. Louis] has, among other amazing stuff, a ten story slide - which, I don't know about you, but definitely inspires me. Forest Park [5595 Grand Drive, St. Louis] may be the largest, but there are tons of other fantastic parks in the area. Tower Grove Park [4256 Magnolia Avenue, St. Louis]and other St. Louis county parks are gorgeous, and usually have great trails. Faust Park has many well preserved historical buildings and a carousel almost 100 years old that burned down and was restored to it's original beauty. And the city itself is full of inspiration. There is a lot of architecture and history in the city, which is always an inspiration. Even the places no one would think to go. A local St. Louis artist, Andrew Brandmeyer, paints landscapes of the older areas of the city and is able to make them beautiful again.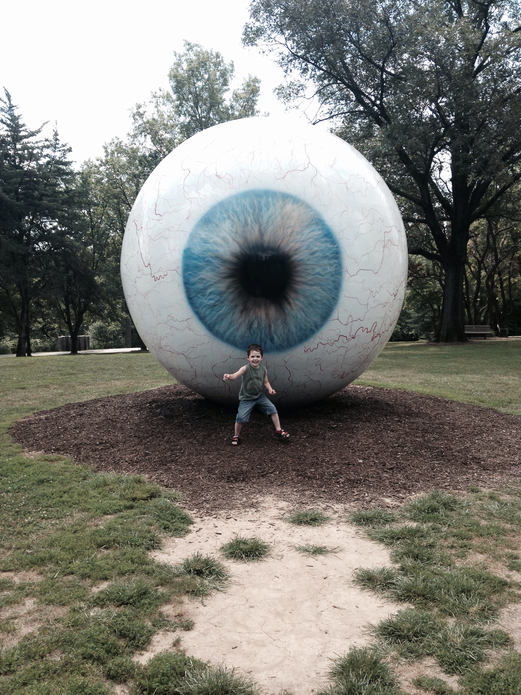 If you want to get out for some non-crafting activities, Grant's Farm [10501 Gravois Road, St. Louis] is fun for the whole family, with history, animals a carousel and free beer. Anheuser-Busch [1200 Lynch Street, St. Louis] Tours require you to purchase tickets, but give out free samples of beers.

If you're in St. Louis you should definitely get a pic with the giant eyeball at Laumeier Sculpture Park [12580 Rott Road, St. Louis]. And if you can make your way to the Arch [100 Washington Ave, St. Louis], it's always photogenic. My favorite is the static electricity ball at The Magic House [516 South Kirkwood Road, St. Louis].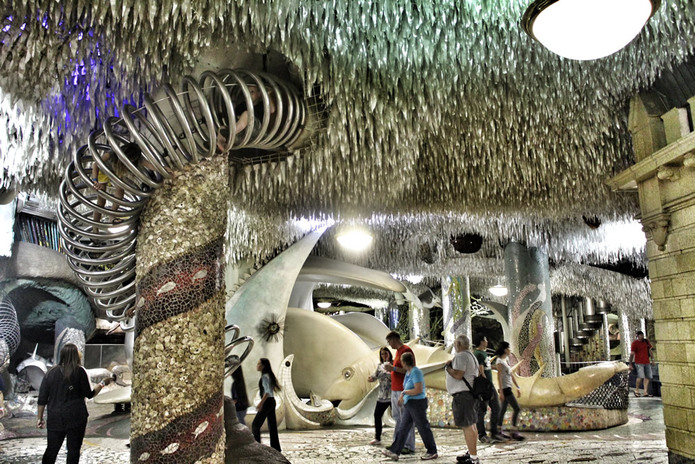 ---
Eat & Drink
Depending on what you're in the mood for, St. Louis has it covered. When I'm in the mood for Italian, the Hill has a great selection of fine dining, Favazza's [5201 Southwest Avenue, St. Louis] comes to mind first. There's also South Grand, which has a variety of awesome places to eat; The King and I [3157 South Grand Avenue, St. Louis], Pho Grand [3195 South Grand Boulevard, St. Louis], Mekong [3131 South Grand Boulevard, St. Louis], Meskerem Ethiopian [3210 South Grand Boulevard, St. Louis]. And of course, Imo's St. Louis style pizza is everywhere.
For a special treat and blast from the past, Crown Candy Kitchen [1401 Saint Louis Avenue, St. Louis] is an old time soda fountain and have a BLT that could feed you for a few days. And if you're in St. Louis, you should try a fresh Gus' Pretzel [1820 Arsenal Street, St. Louis] straight from the store, or a pretzel brat if you're looking for a meal.
Right around the corner from me is the MacKenzie Deli [9445 Pancho Drive, St. Louis]. It's a mom/pop shop with humongous sandwiches on the cheap and a working South Park pinball machine, how could you resist?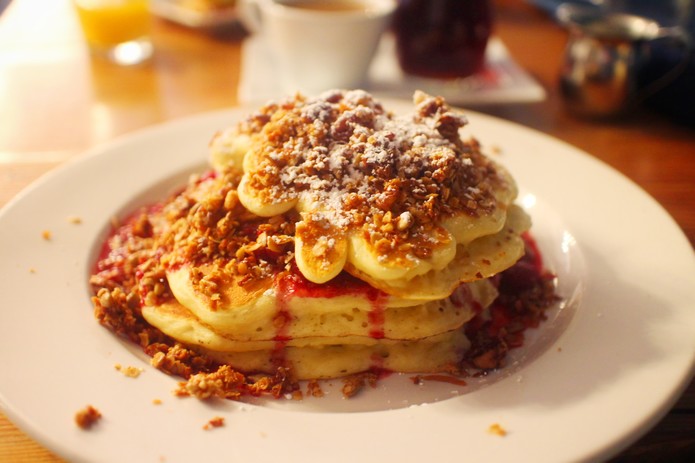 Sweet treats are everywhere! Everyone knows about Ted Drewes [6726 Chippewa Street, St. Louis], and there are almost as many cupcakeries as there are bars. Crown Candy Kitchen [1401 Saint Louis Avenue, St. Louis] has both dining and sweet treats, so I must mention them twice, and the awesome old-timey atmosphere is worth the trip. If you're looking for a spectacular art/cake, The Happy Baker can make anything!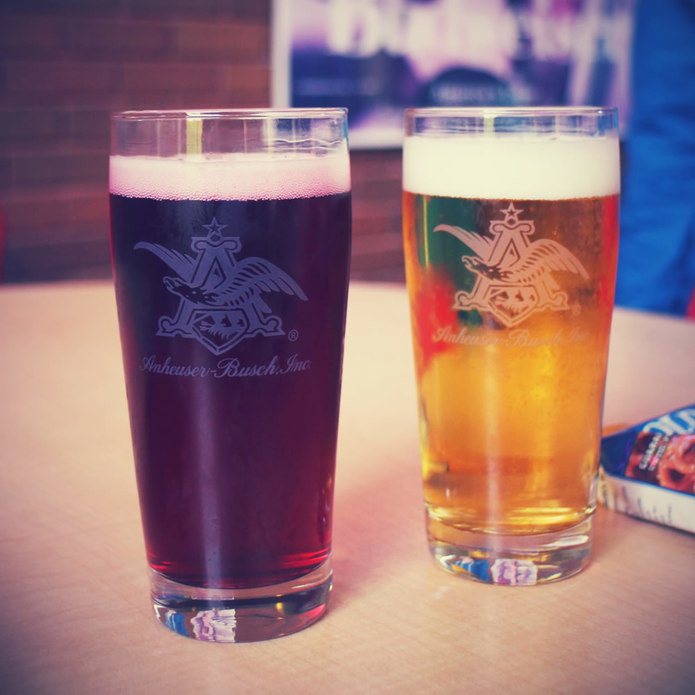 Favorite night life... well, see, we have a four year old.... we don't get out much anymore. When I do, I tend to stick with bars that have karaoke (my guilty pleasure), The Luna Lounge [4561 Gravois Avenue, St. Louis], River City Pub [7906 Gravois Road, St. Louis] or Cotter's Sports Bar [4610 South Kingshighway Boulevard, St. Louis].
An evening at the Delmar Loop [Delmar Loop, University City, MO, USA] could include a concert at The Pageant [6161 Delmar Boulevard, St. Louis] followed by bowling and drinks at Pin-Up Bowl [6191 Delmar Boulevard, St. Louis]. Or you could go for something a little more cozy and have dinner and live music at Blueberry Hill [6504 Delmar Boulevard, St. Louis]. Something you don't see a lot of these days is Skyview Drive-In [5700 North Belt West, Belleville], a working drive-in movie theatre, just across the river in Belleville, IL (another fun place to go shop/eat/hang).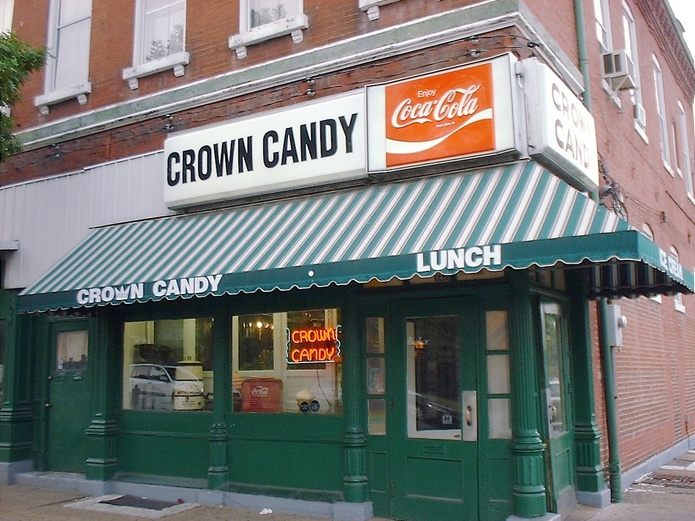 ---
Craft
The City Sewing Room [6700 Arsenal St] and the Craft Alliance [6640 Delmar Boulevard, St. Louis] are two wonderful organizations dedicated to teaching arts and crafts. As far as sitting and crafting, if you have a portable craft/hobby many of the coffee shops around the area are cool with groups coming in to craft.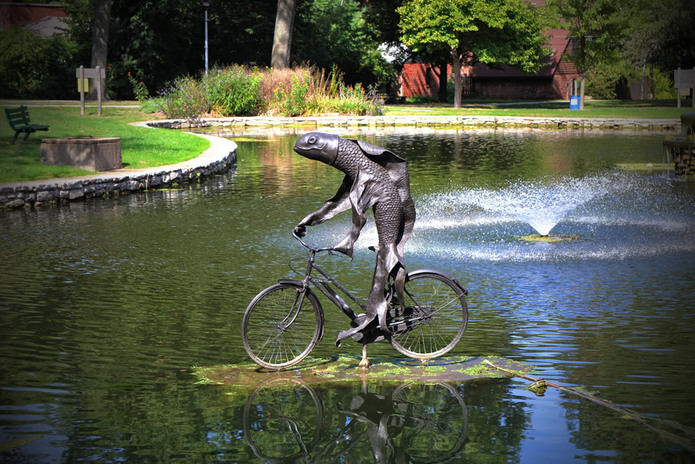 Here in St. Louis we have Show-Me Etsy and the St. Louis Craft Mafia. Show me Etsy is always welcoming new folks, the St. Louis Craft Mafia has openings every so often. Both groups are a great source of information on local craft shows and crafty meetups. There are a few great groups on facebook that trade/destash/sell craft supplies as well.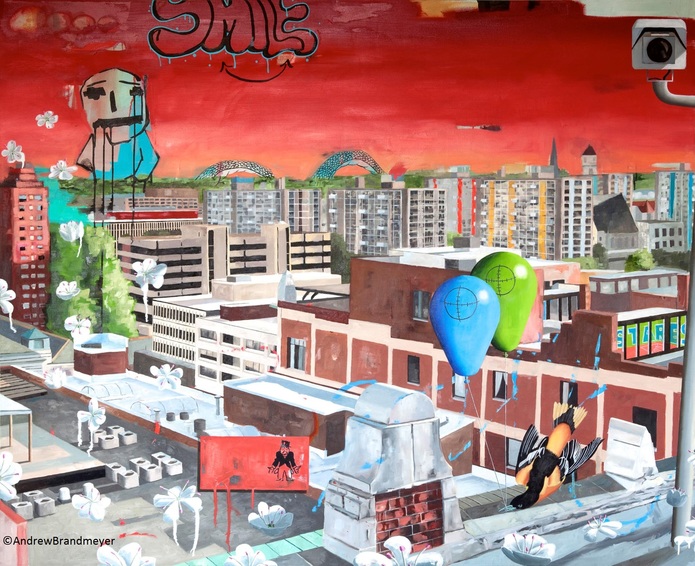 To make new crafty friends, hang out around Cherokee Street [Cherokee St], Tower Grove [4256 Magnolia Avenue, St. Louis], Delmar and at craft and thirft stores. You are sure to meet crafty folks.
---
See Something Special
This is the perfect time to mention the beloved Brooks Catsup Bottle [800 South Morrison Avenue, Collinsville]. I drove by it nearly every week of my life as a kid. Even though it's across the river in Collinsville, IL, it's still worth seeing.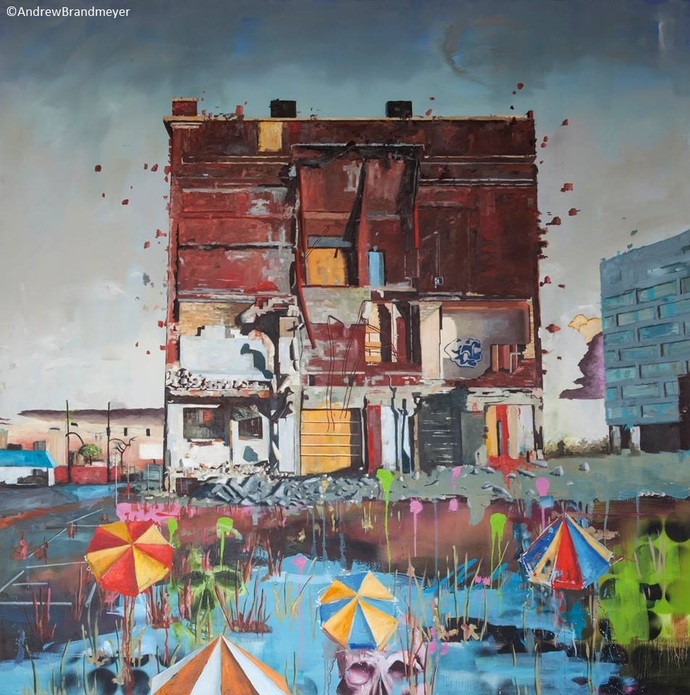 It's funny, but I have no idea. I've lived in this area my whole life and I can't narrow this place down enough to pick a souvenier. I'd have to stick with my general rule of thumb when gift/souvenier shopping; buy local, buy handmade. But even just visiting some of the places I've mentioned will give you memories far better than any souvenier. And pictures, those are always good.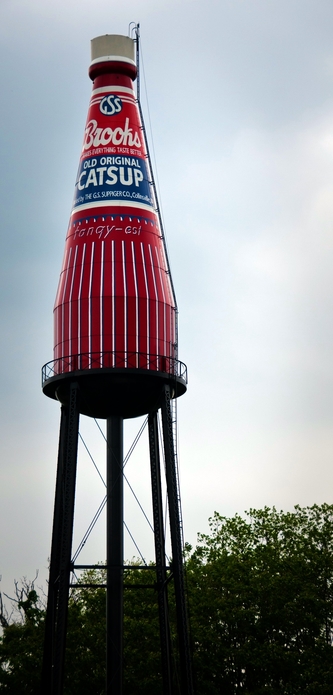 ---
Want to take us on a tour of your town and write a City Guide for the blog? Send us a message!
Share
Follow
Comments