Creative Spaces
Explore crafters creative spaces and share your own.
Looking at where someone lives and works can tell you so much about them, so we took at peak at some crafter's creative spaces.
Stephanie
My father made my art desk for me a few years back. It's fully adjustable to four positions, turning into the perfect space for sewing, cutting or drawing.
My desk is not only functional, but the space is a source of constant inspiration. I surround myself with little bits of stuff I love ... that I've made, that others have made and given me. I think of these bits as tiny mentors for my creations. Influencing and prodding me on, showing me what's possible and beautiful.
Elizabeth
My apartment is divided into two halves... a pink half and a green one, with an equally colorful hallway connecting them. These two photos show my living space (more of a social nook) and bedroom, which are both part of the green room. Although most of my designing takes place in the pink room, the green room is equally important because most of my brainstorming takes place here. I find green so relaxing that happy, creative thoughts just seem to pop into my mind! Plus, I have oodles of decorative boxes in this room, which store a good number of craft supplies and inspiration, such as vintage hats and bags.
Tea for two? Sometimes, but not always. This table doubles as a place to craft and squeeze in a quick snack (if I have time... and the table is not engulfed in sparkly doodads). I also set my laptop up here and do a lot of writing (my second craft book, Crafty Bags for Stylish Girls, was composed at this table). However romantic the notion of crafting and writing by candlelight may be, I keep use of the chandelier down to a minimum just for precautionary measures!
Polly
My workspace is basically a desk in the corner of my bedroom. I use it for writing, small sewing projects and artwork, but it's mainly used for making polymer clay jewellery for my business Sweet Polly Rose.
I have a small drawer unit on the top which holds pens, jewellery fixings, polymer clay and finished pieces. It started life as plain pine Ikea drawer set but I've customised it with pink rose wrapping paper and some cream paint. I also have a matching pen pot for all my tools. I think its important to have an attractive workspace as it makes me happier while I'm working, so I've decorated the walls around my desk with pretty pictures and postcards. These brighten up my desk and also give me inspiration for colours, shapes or patterns I can use in my jewellery.
---
Now we want to see your creative space, post a photo below!
Comments
"
OMGsh Im lost for words this is so me!
"
"
sorry about all the posts i just cant figure out how to put my picture on here
"
"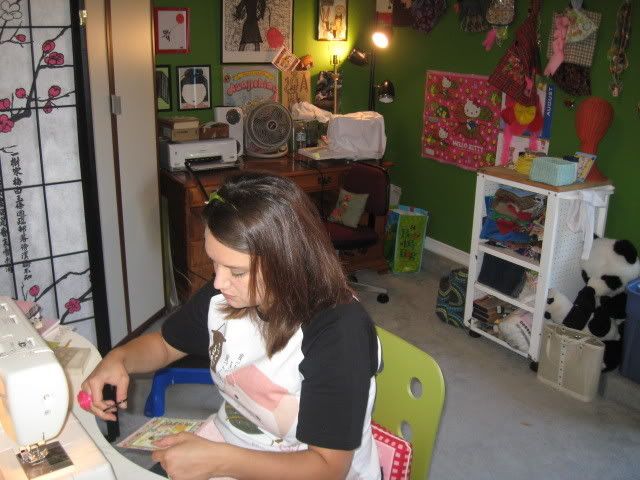 "
"
Wow....my room is so small, my workspace is my bed because every other possible area in my room is covered with books or schoolpapers....
"
"
I love your rooms! X)
My workspace is basically our dining table...
I Wish I could have a nice kitsch working space like yours
"
"
Wow. That living room knocked my socks off, Elizabeth. Love that chaise lounge. OF course the creative space is fab also, Stephanie. Lots of inspiration and little bits of fun stuff. Thanks for sharing your spaces. Here is mine. It's messy and a little uninspired, but I love the green walls, and my 6 foot stainless steel work surface.
"
"
Wow, I really love elizabeth's apartment- it is so beautiful!
and I have one of those plain IKEA drawers that Polly had but now i have the perfect way to decorate it. There's no point in me posting my craftspace as it's very boring and I've only started crafting recently so there isn't much there.
"