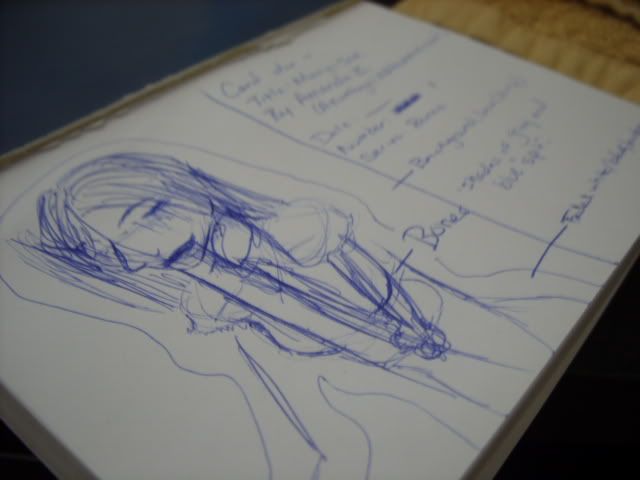 So, I started making the sketches of what I want my ATC's to look like. I joined a swap and I think it will be pretty fun. These are the blueprints I drew out for one of my cards. Not anything close to what the actual images will look like. But, so far so good. I decided to make them in "sets", so if people circulate them they could potentially want to collect them all. Pretty fun swap, I plan on making my next set on paint chip examples. You'll see.
Looking at the website I noticed user blogs are pretty uneventful. Hopefully things pick up and I am just present for a dry spell. In other news. Today was free comic book day! In arizona we have a comic shop that has a "free comic book day" every few months. Tons of local artists show up and it is a pretty fun event. I picked up:

- Mouse Guard by David Petersen (One Shot)/ Jim Hensons Fraggle Rock (One Shot)
- Fractured Fables by Various artists and writers
- Girls by the Luna Brothers
- and The Wonderful Wizard of OZ by Shanower and Young

Additional to that I also found The Lion King game for the SNES. Wonderful game! I loved it as a kid and it was only $5. Cant beat a deal like that.
That is all for now, see you guys later!
Share
Follow
Comments