First Craft?
Alright, so I was talking to a few other craftsters, and we ALL have that one, favorite, young child craft that we still have.

Mine is a mask. In art class, there was an activity afterschool we could all do, and that was plastering our face to make a mask
so I did, and then the next day I painted it, and I was SOOO creative with the paint! I am really proud of my little 2nd grade self! I was better than the 5th graders [big deal at the time!
].

I'll get a picture as soon as.... I stop being lazy and go take a picture of it
lol

Its in my room right on my open cupboard, on the right, in front



So lets see yours!
12
replies since 25th October 2008 • Last reply 25th October 2008
back in 2nd grade we got to play with plaster for art. I made a jewlery box for my mom(just a small one) once it was dried I got paint it, my mom still has it on her dresser till this day. It looks so lopsided and uneven but it looks kewl in an artsy way.
I didnt really think about it till you brought the topic up.
I don't have any of my childhood crafts. )= We moved alot, I mean alot. You don't even want to know. Wish I still had the ashtray I made out of clay for my stepmom in 1st grade. I wonder if you would even be alowed to make that now-a-days in elementary school?
lol tara, yes, you are, but now they are candy holders instead of ashtrays. Same basic thing.


And that sucks :

I know about people moving alot [One of my closest friend has lived in 23 states... and three times as many cities], and it really sucks, but sometimes you find things you never owned.

WHen I moved, I got this weird gold sparkley tiger picture thing... WAY 90's, really funny
Grade 1 is my favorite craft project, it was a small book we filled with all our best work and pictures of ourselves at the end of the year. It was like a scarpbook, but we made all the pages and the teacher bound it. I had soo many cool things pasted in there, like my frist A+ (and my second to last ;) ) math test, and a picture of me at my aunts wedding, and me burying my best friend Tyson in the sand at the beach. And than all my leaf prints, and my picutre i colored in with dots, so you could still see the white i took forever one. And the little sock puppet i made, and the bag puppet. YAY i miss tha tbook
i lost it when we moved. I only have the cover.
This is a little shuttlecock I decorated to look like Elvis and gave to my gran... don't ask me why.

It's still on display next to great Grandad.

That is very cute Roma


I also made a mask in summer camp when I was a kid! I loved that thing, it's probably been thrown out though. Also a cross I made in my youth club with matchsticks, that was well cool, but thats gone too I presume
oh gosh, I have always been so crafty but I belive mom still has pasta necklaces and a snowglobe I tried to make
I have this awesome angel toy that I sewed in year five, and we still put it on top of the Christmas tree every year. If I remember, I'll take a picture of it when we get the stuff out.
This is an egyption style pot, or was meant to be. They said make sausages and put them on top but as you may be able to tell, I never thought or wasn't told to squidge and smooth the sausages. I wasn't very pateint when I painted it either lol I think I was about 8, it fell apart recently.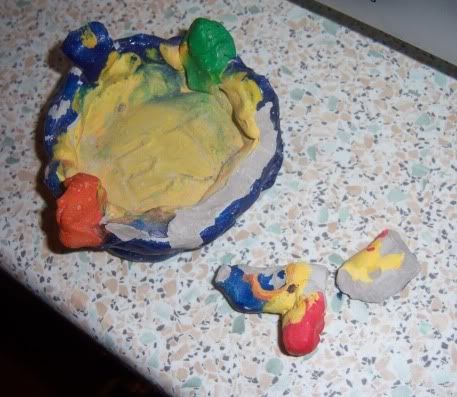 This is a mouse I made out of clay in the lake district when we had a school trip there, it was really dark when we left to go to bed (stayed for a week I think). My nan came round once and said 'OOOh is that Rona?' (the dog), I was not happy. You can see all the holes I poked in it incase it exploded and the base is so awful lol I was 10 or 11 when I made it.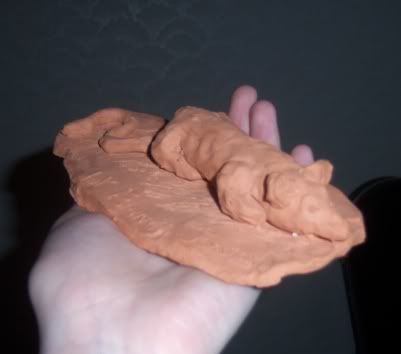 I also remember doing sewing on that material meant for cross stitch and still have the finished thing. I remember making a celtic brooch with maceroni and then the teacher sprayed painted them gold. The same teacher that did about the celts with us used to make her own play dough and it was so much fun but then it went funny cuz it went off with being made from kitchen ingrediants rather then fake crap...we've lived in the same house since I was 7 months old so not lost anything, and I'm an only child so only my junk about, it would be fun to find forgotten things in a new house
Queeny, That mouse is amazing
Very cool. and the first thing

AND ROMA, I LOVE THAT ELVIS THING!!! lol I didn't like elvis much when he was in that style, I liked much younger earlier Elvis, but he is STILL the king of rock and the king of awesome
The only things I can think of that I still have are a picture of a squirrel that I did in reception and either an red onion or red cabbage that I made in year 5.
The squirrel was a calendar once upon a time (as in it had a little calendar bit stuck on the bottom lol). It has a squrrel stuck in the middle and I did a bit of sewing round the edges and sewed some beads on. My mum liked it so much that she kept it and framed it.
The onion/cabbage is a kind of collage thing we did at school. We were given a vegetable and we had to draw it and then we were allowed to use loads of different materials to collage it. I used beads, ribbon, hessian type stuff, and some french knitting that I did. I was really proud of it when I was done.
I'll get pics later.
Mine was definitely an oil painting I made for my mom with her old paints when I was four...It was a tornado....hahaha I just took all the oil paints and smeared them together and told my mom it was a tornado... she still has it too.
Sign up
We'd love to know what you think - Leave your reply right away
Sign up in one click using
Google
Facebook
Twitter
Or using your email address