Fabulously-Fantastic Finds!!! (FFF's)
So... let's see who else is as geeky as I am LOL...
Here's a place to post pix of all those FFF's!!!

What the heck do I mean?
- that awesome bag of yarn you found on the discount rack
- the crazy retro shirt you're gonna revamp
- those fantastic craft supplies you found at the Salvation Army store
- the totally wicked remnants you got from the fabric store clearance bin
- the sweet patches you found at the dollar store
- omg cool shoelaces!
- can you believe someone threw this out?

...get it now? Sweet.

I'm talking mainly discount store and thrift store finds, but hey... that's just where the idea came from for this thread. If you found something fantastic at your local drugstore that you're gonna make into something great... post a pic!

This is a thread for posting pre-creation finds! Post your creations under your projects of course - we just wanna see what you found BEFORE you create! And, if you're like me and you buy stuff spontaneously but are stumped for inspiration, maybe someone else can give you an idea after they see your FFF's!
11
replies since 8th November 2008 • Last reply 8th November 2008
And... the things that inspired me to start this thread... I'll kick off the thread by sharing the green paisley corduroy remnant I got from the fabric store... AND the fantastic brown plaid corduroy that I found at the thrift store. SO great. BUT... no idea where to start to make something. I'm thinking some sort of uneven skirt with the brown... and MAYBE I'll give up the green paisley to one of my kids as a dress cuz it's just a fairly narrow strip. Any ideas?

Green Paisley Cord...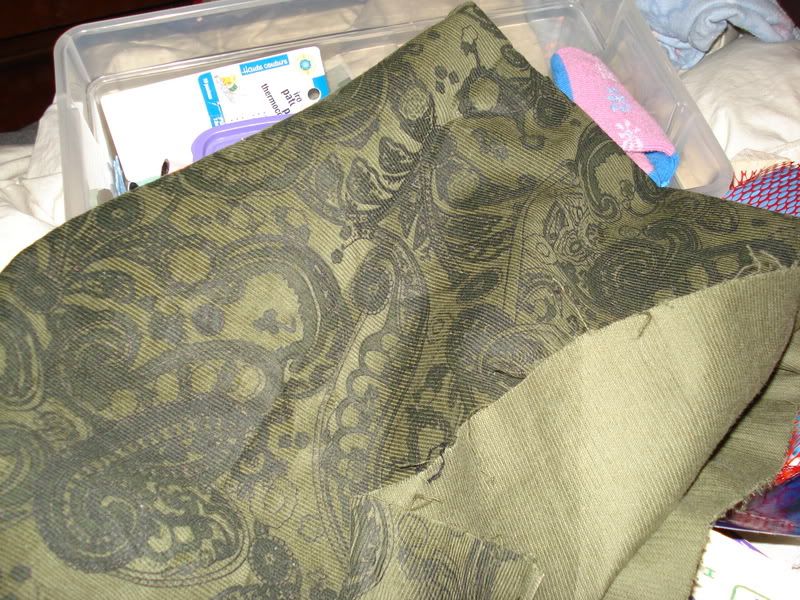 Brown Plaid Cord...

ok, need to take pics

I have found a great red suede jacket, a leather jacket, leather bikers jacker, leather skirt, fur jacket, combat boots....really cool hats
My latest finds are my Marine Corps, Digi Cami fabric bought 2 yards for me 2 yards for a friend. And my Project Runway fabric that has sewing pins on it. I made a sewing machine cover with that one. (=
batman backpacks at a garage sale, army jacket with the name "hugh" engraved on it [its also got a small cut mark so we think he might have been shanked], bowling shoes [one is a half size bigger than the other, lol, its funny], SOMEHOW someone decided to throw out a mini-fridge/watercooler, CRAZY! I think it was like... 15 bucks. Checkered fabric to make pants and a vest-thing. TONS OF records and record players, posters, etc.etc. etc.

The basic Awesome Finds. For reason reaosn, people tend to just GIVE me stuff. I don't know why..

things I got for free:
-book of poems
-plaque with a poem about god for my aunt
-a sticker thing that says "groovy" and its huge and I THINK goes to a car, but its on my window
-a roll of paper [HUGE roll, literally hundreds of feet of paper].
-shirts
-shoes
-a tie
-a cool old-fashioned mirror that I sadly lost
-gloves
-an art booklet thing
TONS of other really nifty crap


I love people who decide they like me.

And its really funny, because I'm always their with friends, and they make my friends pay, but they give me the crap for free.
haha
lol Dis, that's awesome
...my free stuff usually comes from my mom's old stash. LOL which is ever-interesting, however... she was a ballroom dancer when she was young so she's got all these beads and sequins and old scraps of funky material from the 60's... lol. But I do *heart* garage sales and stuff. I think I only made it to one this year
sooo broke. lol.
i got a book called "Mysteries of the Unexplained" in the clearance corner of a resale vook shop for one dollar.

it has a whole section on SPONTANEOUS COMBUSTION

i love it :]
rofl that's fantastic! I think I've seen that book.. .there's like...a series of them... is it black hardcover with silver text on the spine?
yeah. the cover is like dark blue and black marbled, and the spine is black and the lettering is silver

theres a series?! :0 YAY I LOVE THAT BOOK
:0 dude. AWESOME!!! my day is perfect. I went to see Quantum of Solace OPENING NIGHT and now this. yaaay!
lol awesome... was it good?

I have a new find...
Went to Value Village again yesterday and... no pics this time, maybe later...
Someone's like... huge collection of 100% wool yarn... and so I got a bunch of it... I have about 4 balls of some brand I've never heard of but it's... 100% pure virgin Lopi wool (what's Lopi??????? but it's cool) which is kinda green with white/grey in it. And 5 hand-dyed(? - or handspun... or both... it was in a twisted skein) skeins of this nice hunter green with some bits of red in it, which is again 100% wool... 2 balls of what I THINK is wool, it looked so awesome I couldn't pass it up... it looks like dryer lint. LOL... it's kindof this purpley-grey color, with all these little bits of red, blue and yellow in it. It's a little kinked so it might have been reclaimed... or they just gave up on a project and rolled it up LOL. I am gonna attempt a tam/hat with it. ANDDDDD (yes there's more - I am a self-proclaimed yarnwhore lately).... three balls of colored ?wool? in pink, pinkey-purple, and dark purple respectively.
ANDDDD... found a bag with an about 8mm(it doesn't say on it for some reason), clear purple plastic crochet hook. Not as big as my big 10mm one so I'm guessing at the size. Anyway it came with two yarn needles (which I hadn't bought yet and needed badly), and something my hubby says is for transferring patterns? it looks like a pizza cutter but tiny and with teeth instead of a blade.

Anyway hopefully I'll get something interesting made out of my "lint" yarn that I can post as a project soon.
Sign up
We'd love to know what you think - Leave your reply right away
Sign up in one click using
Google
Facebook
Twitter
Or using your email address