Portland
Oregon
United States
30 projects
We head to Portland, Oregon to meet #FeaturedMember Sneezerville who likes creating new, unique things with reclaimed yarn!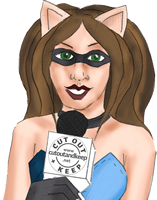 Featured Member Interview
How did you find CO+K and why did you join?
Random online search for a project. I joined because I liked the idea of having ONE spot to put ALL my craft venturs.
---
What projects are you currently working on?
a granny square afghan and a crochet top, both deadline work for a signature collection (anniessignaturedesigns.com)
Stats
Joined

April 19, 2013

Location

Portland, Oregon, United States

Projects

30

Featured Projects

1

Favorited

176 times
What does your craft space look like?
I don't have one sadly. I have a designated spot on the couch to work on my projects and all my materials are scattered throughout the house.
---
Which tool or craft supply do you use the most?
my Knitter's Pride needle set.
---
What do you craft along to?
TV shows: Bull, Game of Thrones, MacGyver
britt's Most Popular Projects
Favorite Craft
yarncraft: knit or crochet because it is soooo portable and I can make a variety of projects from wearable to home dec.
drawing: mostly marker art lately. Again portability (if that is a word) is key. I am a mom and I have to be able to take projects with me.
britt's Top Crafts
If you could learn one new craft or make anything, what would it be?
bahhh...I don't need another craft but I do need to make me a Weekender Pullover by Andrea Mowery at some point in my life.
---
Who are your crafting heroes?
Fringe Association
Tif Fussel aka Dottie Angel
Andrea Mowery