We head to Whitehaven in the UK to meet Kay who loves making a mess of the bathroom while tie dying!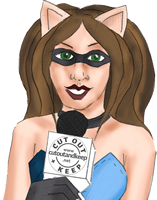 Featured Member Interview
How did you find CO+K and why did you join?
I think i just came across it browsing blogs its been a long time. i joined because i love to share my projects with people.
---
What projects are you currently working on?
i saw a bright yellow dress kristen Stewart (twilight bella) was wearing once and i am trying to make one similar.
Stats
Joined

November 19, 2012

Location

Whitehaven, England, United Kingdom

Projects

24

Featured Projects

0

Favorited

86 times
What does your craft space look like?
I have just moved into my new place and i don't currently have a craft space it just sit on my sofa for now but in my old flat i had a desk and a mannequin.
---
Which tool or craft supply do you use the most?
mannequin and seam picker, tape measure.
---
What do you craft along to?
i put the radio channel on the tv
Kay's Most Popular Projects
Favorite Craft
I love making shorts cut from Jeans they're great for any occasion.
i love making dresses from scratch and skirts from off bits of fabric.
I absolutely love making a mess of my bathroom tie dying things if its in my house long enough it gets dyed.
Kay's Top Crafts
If you could learn one new craft or make anything, what would it be?
I want to learn to weld. i have always wanted to learn not only for a career but im fascinated by it.
---
Who are your crafting heroes?
My nanna saved me one day from killing myself my jean legs where far to big so she cut them down for me.
and my mother because the night before my wedding my dress was destroyed and my mother fixed it in about 20 mins.