Where to buy practice square wire for wire wrapping?
Hi everyone!

I'm still new to this forum and I hope I found the right category to post.

Since I love making jewelry and found a lot of very inspiring tutorials about wire wrapping here and elsewhere on the web, I'd love to try them out. But there is one big problem: many of those tutorials recommend square and half-round wire.

I know a lot of online shops that sell sterling silver or gold-filled square/half-round wire but no cheap wire (copper, brass whatever) for practicing. I even found one shop in the USA selling copper square wire and an ebay seller (from the US of course) offering practice wire packs containing all I'd need.

But still I have a problem: I don't want to order my wire in the USA or somewhere else outside EU. The last time I ordered wire from beadaholique I had to pick it up at the customs (at least they didn't charge me anything...) and open it there, although I had recieved some other orders from the USA and China without any problems before.

Google didn't help me either so... does anybody know a european online shop that sells practice sqaure/half-round wire?
I'd be really glad if anybody could help. Thanks

Kerstin
3
replies since 10th March 2009 • Last reply 10th March 2009
Which projects use square/half round wire?

I find my wire in a craft shop but recently I got given a load for free. Let me decide if I really want to keep it and if not we could do a swap or something, it's never been used.

I did a really quick search on German ebay, I'm not fluent in German but hopefully you'll find the right type here:

http://wohnen.shop.ebay.de/items/Hobby-Kunstlerbedarf__wire_W0QQ_catrefZ1QQ_flnZ1QQ_fromfsbZQQ_sacatZ8423QQ_trksidZp3286Q2ec0Q2em282

You'd probably be able to create wire wrapping jewellery easily with any type of craft wire and some good pliers. It takes practice though.

edit: i'm trying to get the picture of the wire to upload, it's completely up to you if you want it or not. I'll try putting the picture up tomorrow.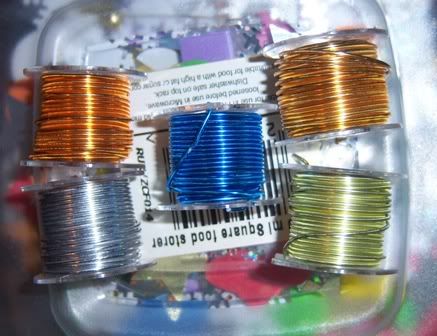 orange, silver, blue, a yellowy gold colour and yellow
Sign up
We'd love to know what you think - Leave your reply right away
Sign up in one click using
Google
Facebook
Twitter
Or using your email address