San Diego
California
United States
37 projects
We head to San Diego in California to meet Alternativelychiic who enjoys spending her time doing crafts and makeup!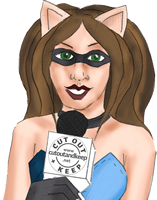 Featured Member Interview
How did you find CO+K and why did you join?
I was looking for DIY websites and came across CO+K. I had just started a DIY channel on Youtube and wanted another way to share my crafts.
---
What projects are you currently working on?
Some Christmas gift ideas.
Stats
Joined

June 10, 2011

Location

San Diego, California, United States

Projects

40

Featured Projects

0

Favorited

413 times
What does your craft space look like?
I use my desk to make thing's and store my crafting supplies.
---
Which tool or craft supply do you use the most?
It's either scissors or a hot glue gun.
---
What do you craft along to?
If I'm watching something it's usually a horror movie or a Mexican show called La Rosa de Guadalupe. If I am listening to music I listen to either K-pop, Latin or Freestyle music.
Emilia's Most Popular Projects
Favorite Craft
I like jewelry making the most. I like to make thing's that I see online or at a store and try to recreate it for less.
Emilia's Top Crafts
If you could learn one new craft or make anything, what would it be?
I think woodworking is something I've wanted to try again. I took a woodshop class in middle school over a decade ago. I was not good at it at all and didn't even try. I would like to give it another chance now that I am older and see what kind of neat thing's I can make.
---
Who are your crafting heroes?
I would have to say my family members are my crafting heroes. I come from a family who is very creative and enjoy making thing's. I have learned a lot from them over the years and they were an inspiration for me to start crafting.