We head to Oakland in California to meet Pixel junkie who has been crafting since she was a little girl.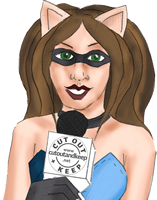 Featured Member Interview
How did you find CO+K and why did you join?
I've always loved crafts. ive been crafting since i was a little girl. I was looking on yahoo answers to see if there were any craft sites and cut out + keep popped right up. i immediately fell in love
---
What projects are you currently working on?
Im currently working on some perler bead chains inspired by marshawn lynch from the Seattle sea-hawks. He's from my hometown oakland, california. we actually went to the same high school together, oakland technical high. Im so proud to see how far he has come
Stats
Joined

February 9, 2011

Location

Oakland, California, United States

Projects

63

Featured Projects

0

Favorited

150 times
What does your craft space look like?
My craft space is a bit messy but im working on organizing it.
---
Which tool or craft supply do you use the most?
I like working with perler beads the most. Its really relaxing to sit listen to music and bead
---
What do you craft along to?
I love to watch some of my favorite youtubers or watch some cartoons and canceled tv shows from my childhood
Ronnie's Most Popular Projects
Favorite Craft
I enjoy making various things out of perler beads like necklaces,earrings, keychains. My favorite thing to make is throw pillows. Ive been making them since i was 9
Ronnie's Top Crafts
If you could learn one new craft or make anything, what would it be?
I would love to learn how to knit. I want to be one of those old ladys that sits on the bus or in the libarary knitting her grandson a sweater for christmas ;-)
---
Who are your crafting heroes?
me!!! lol