We head to Mechanicsville, Virginia to meet #FeaturedMember fetisha who is always wanting to add another crafty project on her to-do list.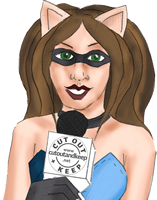 Featured Member Interview
How did you find CO+K and why did you join?
I joined so long ago, I can't even remember how I found the site! I was probably surfing around looking for a tutorial on something and found CO+K, fell in love with the site, and immediately became a member :) I want to say that I was looking for ideas of how to refashion old t-shirts, I've been doing projects like that for years.
---
What projects are you currently working on?
I just finished having a huge Tim Burton's Alice in Wonderland-themed costume party for my 30th birthday. I made a lot of stuff for that party, including a Sharpie-colored Treat Stand, a Mushroom cake, several mini top hats, photo booth props, Alice's Um dress, and several other projects. Now that that's over, I'm working on spring cleaning and hopefully getting some mini top hats made- I've been thinking of some ideas that I hope will be great!
Stats
Joined

May 15, 2010

Location

Mechanicsville, Virginia, United States

Projects

36

Featured Projects

2

Favorited

410 times
What does your craft space look like?
Right now my craft room is more like a crap room! hahaha! I'm currently cleaning out some stuff that I've been storing in there and I've gotten some more storage containers to organize my stuff better. I have a lot of bookshelves in there with all sorts of crafting supplies, and my sewing table is finally getting cleaned off so that I can work in there. I always seem to end up accumulating more craft stuff before I can make a space for it- I LOVE a good deal at the craft store, and tend to buy things before I even know what to do with it :) In the meantime, all my crafting has been in the kitchen at the table or just sitting on the floor- my back will thank me once that craft room is organized!
---
Which tool or craft supply do you use the most?
I probably use scissors more than any other tool. My sewing machine has really gotten a workout recently (I actually broke 2 needles within a week of each other!) and I've been using my hot glue gun so much that I wore it out and had to get a new one.
---
What do you craft along to?
I do everything to music! Cooking, cleaning, crafting- whatever I'm doing I always have music going. I mostly listen to harder rock, and I'm a huge Rob Zombie fan!
Lisa's Most Popular Projects
Favorite Craft
Lately I've really been into making making mini top hats. I've sold a couple of them, made a couple for personal use, and am hoping to start selling more of them. I also really love to upcycle or refashion t-shirts, and make clothes and accessories for my little girls.
Lisa's Top Crafts
If you could learn one new craft or make anything, what would it be?
I would love to learn how to knit or crochet. I've tried knitting several times, but I just don't seem to be coordinated enough for it, hahaha! I'd also love to try my hand at making resin or clay pendants for jewelery or hats. I've just started working with wire for jewelry-making, so I'm learning little bits here and there to get better at that.
---
Who are your crafting heroes?
My crafting heroes would have to be my mom and my Gramma. From an early age, I've always loved to create things after seeing the things my mom and Gramma made. My Gramma has made many special quilts, knitted items, and cross-stitching samplers over the years, and my mom loves to cross-stitch. Some of the first things I remember making were Barbie clothes out of my old clothes.