We head to Wallasey to meet emmilou who loves crocheting, sewing, jewellery-making, and many other bits and pieces!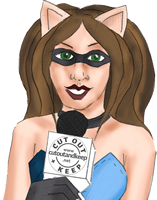 Featured Member Interview
How did you find CO+K and why did you join?
I was looking for a certain craft project (I can't remember what it was now...) & I fell onto CO&K...I loved a lot of the projects on here so joined up
---
What projects are you currently working on?
As I mentioned before, my latest projects are canvases using mixed media. They have motivational quotes on them which helps with my depression & anxiety. It is also a positive visual for my kids which I feel can only be a good thing...
Stats
Joined

February 24, 2010

Location

Wallasey, England, United Kingdom

Projects

12

Featured Projects

0

Favorited

80 times
What does your craft space look like?
I have recently moved so I haven't actually got a craft space at the moment...just craft where I can...
---
Which tool or craft supply do you use the most?
My sewing machine, crochet hooks & paintbrushes are my most used tools...
---
What do you craft along to?
If I'm working to a tight schedule, I listen to Feeder greatest hits as I find that motivates me the best but if I can take my time, any music that I love...
emmilou's Most Popular Projects
Favorite Craft
I love loads of different crafts...sewing, crocheting, jewellery making, baking, cooking, painting, knitting...painting canvases with motivational quotes is the latest craft I've been doing recently & sewing patchwork fleece blankets with recycled clothing, oh & using recycled picture t-shirts to make cushion covers...
I love making allsorts of things,...clothes, toys, food, canvases, homeware, etc...
emmilou's Top Crafts
If you could learn one new craft or make anything, what would it be?
I'd love to be able to make lots of hats & blankets for the homeless...have the staying power to make lots of them...
---
Who are your crafting heroes?
Everyone on CO&K!!