We head to Ormond Beach, Florida to meet multi-medium artist, alternative model and musician, Kasey Kasket!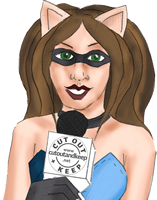 Featured Member Interview
How did you find CO+K and why did you join?
I found CO+K some time ago when I was searching far and wide on the internet for a good how-to site for people that are as creative as myself.
---
What projects are you currently working on?
Long story short.. creating a line of dresses to showcase my first collection to present in the near future.
Stats
Joined

February 5, 2010

Location

Ormond Beach, Florida, United States

Projects

23

Featured Projects

0

Favorited

242 times
What does your craft space look like?
I make all kinds of art, so my space is a mixture of instruments, canvases, tubs of fabric, and drawers with all kinds of things from plastic insects to bags of interesting tiny metal pieces from numerous objects, found and recycled. At first glance, my craft space is more of a music area. Guitars, keyboard, stereo and turn table, with a couple vinyls sitting around. I keep all of my craft items sneakily tucked away here and there, behind the cabinet that the turn table is on..in the drawers that stack up forming the stands for the speakers. I keep everything organized in the drawers - one for paper crafts, one for doll parts etc. On the other side of the room, behind the door, I have a dresser. There is a tub in front of it with fabric that I use the most, and the dresser has a drawer strictly for thread etc, the second is for velcro, zippers, buttons etc, the third is for tools, elastic and lace.
---
Which tool or craft supply do you use the most?
Scissors are my best friend. I think my most used items are my scissors, two paint brushes in particular, black acrylic paint, and a needle & black thread.
---
What do you craft along to?
I love vintage music - rock, metal, pop, 60s-80s rock the most. If I have a tv craft afternoon, to be honest, I love white trash television. Jerry Springer and the like. Or if it's in the evening, I enjoy listening to documentaries, but I have very strange interests in that area haha
Kasey's Most Popular Projects
Favorite Craft
I am a multi-medium artist, and I tend to bore easily, so I jump around between types of projects constantly. My favorite things tend to be anything where mid project, I realize that I'm having a lot of fun, and there are endless ideas flowing through my head. I tend to create as I go (see how it would be hard for me to measure or plan to precisely?) so whether it be a simple dress that's turned into wearable art ready for a catwalk, or a simple painting that's turned into a magical work of art that reads to the eyes as a powerful poem does with the soul, I'm happy making it.
Kasey's Top Crafts
If you could learn one new craft or make anything, what would it be?
I would love to have the experience to build large scale props and scenes for sets on stage for future shows for my music.
---
Who are your crafting heroes?
Anyone who can bring their craft into a style that is completely their own, and own it. I love people who aren't afraid to be themselves in the craft world, and make a statement with their art that makes other people inspired to do the same with themselves.