We head to Austin, Texas to meet ofenjen who runs the blog sewhooked!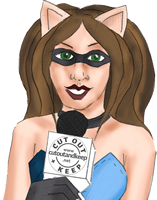 Featured Member Interview
How did you find CO+K and why did you join?
Oh my goodness, I have been a member of CO+K for ages, since 2008 or so, and I don't remember quite why I signed up or how I heard about it, but most likely it was word of mouth. I was on several crafting forums prior to that time and CO+K just seemed so much more user friendly. I love the photo-inspired layout and I like to share my own tutorials as well as checking out the crafty brains of others and it's always been so easy to do that with CO+K.
---
What projects are you currently working on?
I'm currently in the middle of a Block of the Month that I've designed and am hosting on sewhooked.com called Paper Piecing Vintage. It's an entirely paper pieced BOM inspired by vintage quilt blocks. I'm also working on new designs for The Summer of Stitching on fandominstitches.com, a weekly themed event for sharing free fandom-themed patterns. I just finished two Monty Python embroidery designs of my own, and both super fun to stitch! Also on the fandom-front, I'm working on finishing up a Princess Bride-themed quilt that was from an event held earlier this year on Fandom In Stitches called As You Wish. Just two blocks to go and then I can piece the entire top! Add to this pile a couple of in-progress quilts and a crochet blanket that will be donated to The Linus Connection, and I think that pretty much sums it up!
Stats
Joined

January 27, 2008

Location

Austin, Texas, United States

Projects

0

Featured Projects

0

Favorited

0 times
What does your craft space look like?
My craft space is controlled chaos packed practically ceiling to floor with crafty and quilty goodness! I'm lucky enough to have a dedicated room for my creativity that I call the Sewhooked Studio, after my blog (sewhooked.com). Mostly, it's a mess of fabric, batting and embroidery supplies with in-progress projects all over the place!. I film a weekly vlog, Talk To Me Tuesday (https://www.youtube.com/channel/UCFFiHKTXN8RgAaXJrLCNK8w), from my crafting space, so it's general not too out of control for the casual observer!
---
Which tool or craft supply do you use the most?
My sewing machine gets equal use with my laptop. I design and publish quilt patterns for a living and run my own crafty & quilt blog as well as a fandom quilting website (fandominstitches.com). When I'm not designing or writing blog posts, I'm happily stitching away!
---
What do you craft along to?
I'm an audiobook junkie and have a tendency to listen to my favorite books (Harry Potter, The Lord of the Rings, The Dresden files and absolutely anything by John Green) while working. I also love podcasts, mostly fandom-themed such as Alohomora and Hyable's Hype. Sometimes I watch craft vlogs created by the Talk To Me Tuesday Livejournal Community (http://ttmt.livejournal.com) while I work so I can just listen to crafty talk!
J's Most Popular Projects
Favorite Craft
I consider myself a quilter first, but truly love all things crafty, constantly rotating through crochet, hand embroidery, stamping, costuming, t-shirt reconstruction and a number of others. My heart belongs to Harry Potter and all things fandom and working on fandom-themed projects is by far my favorite thing.
J's Top Crafts
If you could learn one new craft or make anything, what would it be?
I'd love to learn to knit. It's the one craft that has eluded me, despite having a couple of fantastic teachers try really hard to pass it on to me! I absolutely love hand knit socks and until I can manage to hold two needles at one time, I have to depend on the charity and goodwill of my knitting friends to keep me in handmade socks!
---
Who are your crafting heroes?
I am in constant awe of the volunteers that make blankets for The Linus Connection (thelinusconnection.org), a local blanket making charity that I volunteer for here in Austin, Texas. Much of their work is absolutely stellar and they give it all away for a good cause: kids in crisis in Central Texas.
My friends are amazing, too. I love crafting with them, especially my bff, Julia Murtha (http://www.cutoutandkeep.net/users/3573), full-time working mom and costumer extraordiaire. My dear friend Amber Lowery (http://www.cutoutandkeep.net/users/3541) is my crochet hero. She can make absolutely anything out of yarn! Both Julia and Amber are craft vloggers and part of the Talk To Me Tuesday community.