We head to Port Elizabeth in South Africa to meet crafter, creator and tattooer Tara Gypsy Apples!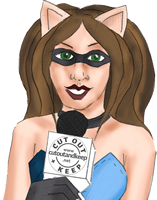 Featured Member Interview
How did you find CO+K and why did you join?
I found Cut Out and Keep about 5/6 years ago while looking for tutorials on how to make zip pouches. I remember being soo excited and browsing the projects for hours. I joined the site so that I could follow my favourite crafters, save my favourite projects and share my own tutorials.
---
What projects are you currently working on?
At the moment, I'm very busy with tattooing; doing designs and doing tattoos and I'm also trying to do more painting this year. I tend to do quick and easy projects or think of a good idea and then do it spontaneously so I'm not working on or planning anything at the moment
Stats
Joined

September 2, 2009

Location

Port Elizabeth, Eastern Cape, South Africa

Projects

30

Featured Projects

4

Favorited

1904 times
What does your craft space look like?
My couch or the floor is usually where I do my crafting. I don't have a special place:( When I have my own house though,I plan on having a BIG studio space with a large craft area. Can't wait!
---
Which tool or craft supply do you use the most?
I use fabric paint more than any other craft supply
---
What do you craft along to?
Whenever I'm doing crafty things, I tend to put on any of the Harry Potter movies or the original Willy Wonka movie to play in the background.
Tara's Most Popular Projects
Favorite Craft
I am a tattoo artist and oil painter by trade but besides those 2 forms of creative outlet, my favourite type of crafting would be anything with fabric. I've only used a sowing machine once though; I enjoy sewing by hand. I enjoy making felt creations and I looove fabric painting. I don't like to do make things that can't be used. So fabric painting is perfect because you end up with custom, personalized clothing and get to show off your art instead of just hanging it on a wall where not many people get to see it.
Tara's Top Crafts
If you could learn one new craft or make anything, what would it be?
I would love to be able to sculpt. Sculptures are so beautiful and you can do so much with that art form. I'm sure I'll get around to it one day :)
---
Who are your crafting heroes?
No crafting heroes.