We head to Salem, Oregon to meet #FeaturedMember noraknickers!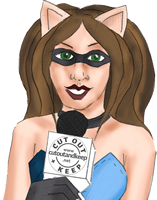 Featured Member Interview
How did you find CO+K and why did you join?
I think it was a tutorial search on youtube, and then I joined for book giveaways :)
---
What projects are you currently working on?
I'm currently between projects, but I've recently been reunited with my craft stashes and so am plotting.
Stats
Joined

May 8, 2015

Location

Salem, Oregon, United States

Projects

4

Featured Projects

0

Favorited

1 times
What does your craft space look like?
A corner of the couch. I've never really had a dedicated "craft space" because I've never had a lving space that large that I didn't share with several other people. It's the couch, or the floor if I'm doing a sewing project, with a side table and decent lighting.
---
Which tool or craft supply do you use the most?
Yarn. Definitely yarn.
---
What do you craft along to?
I bounce between podcasts and the tv, usually tv shows that don't require serious attention, but aren't so shallow as to be annoying.
Chela's Most Popular Projects
Favorite Craft
It changes. For awhile, beading was my favorite and then knitting, then crochet, then doodling (Zentangles and Dangle doodles). Who knows what will be next?
My favorite thing to make is usually wearable - earrings, necklaces and socks. One of my favorite articles of clothing is a cardigan I made several years ago.
Chela's Top Crafts
If you could learn one new craft or make anything, what would it be?
The next craft I want to learn is chainmail, and if I could make anything? I'd make belt/holster purses. I just love those.
---
Who are your crafting heroes?
Stephanie Pearl-McFee (Yarn Harlot) and Heather Ordover of Craftlit.