Kuala Lumpur
Federal Territory of Kuala Lumpur
Malaysia
35 projects
We head to Malaysia to meet #FeaturedMember Harmini who believes in creating magic through art!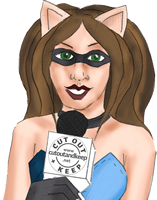 Featured Member Interview
How did you find CO+K and why did you join?
I found CO+K while randomly browsing through some artsy blogs and immediately fell in love with it. There was so many cool ideas I absolutely had to try and contribute as well. I liked the idea of an arts and crafts community that was easy to use.
---
What projects are you currently working on?
More dreamcatchers! The ideas and themes just keep flowing through and it can't stop! I'm always really excited about the next one I create because I never know how it turns out.
Stats
Joined

April 10, 2009

Location

Kuala Lumpur, Federal Territory of Kuala Lumpur, Malaysia

Projects

36

Featured Projects

1

Favorited

2001 times
What does your craft space look like?
An organized mess. It's basically a huge mess, and clutter of colours and materials, but that's kind of how my mind works. It's a clutter that knows exactly what to create through chaos.
---
Which tool or craft supply do you use the most?
I don't have one in particular since I'd like to try my hands at everything. But if I absolutely had to pick a material I use the most, it would be feathers.
---
What do you craft along to?
I listen to a lot of the oldies. From the Beatles, Bob Marley, Erykah Badu. Currently I've been obsessed with a homegrown singer named Yuna who has the most amazing voice. Anything that keeps me zen and in my happy place.
Harmini's Most Popular Projects
Favorite Craft
I enjoy making my own versions and themes of dreamcatchers. There's nothing that makes me happier than creating a work of art that is my own idea and touch of magic.
Harmini's Top Crafts
If you could learn one new craft or make anything, what would it be?
To actually start being able to do work with metal and crystals.
---
Who are your crafting heroes?
I don't have one. I think everyone who crafts have their own unique factor as long as they keep it original and stay true to themselves. I guess I'd say my heroes are every crafter who love what they do and do what they love.