We head to Chennai to meet jewelry designer Divya.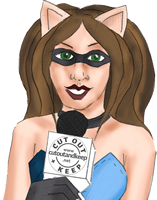 Featured Member Interview
How did you find CO+K and why did you join?
I found it a long time ago through a friend's blog and loved the projects I found
---
What projects are you currently working on?
I just finished making 3 lines of jewelry for an upcoming show - one is called Xian and is a collection of hand painted necklaces on leather. The second is called Paprika which incorporates very unusual (textured) paper focals and the third is called the Bohemian affair which is a set of metal and yarn necklaces that have a very bohemian feel.
Stats
Joined

April 15, 2013

Location

Chennai, Tamil Nadu, India

Projects

7

Featured Projects

1

Favorited

118 times
What does your craft space look like?
I dont have a dedicated craft space - I work on my couch, dining table and or any other place I can find. I also craft a lot on the go
---
Which tool or craft supply do you use the most?
i use my jewelry pliers, cutters almost everyday followed by sealants for my mixed media work
---
What do you craft along to?
I watch a lot of TV shows when I craft - could be anything from Downtown Abbey to Sleepyhollow - depends on my mindset at the moment
Divya's Most Popular Projects
Favorite Craft
I am a jewelry artist so thats what I love the most. But I also like mixed media crafts, floral arrangements and packaging.
Divya's Top Crafts
If you could learn one new craft or make anything, what would it be?
I would love to learn and try out enamelling
---
Who are your crafting heroes?
There are a lot of Jewelry Designers whose work I love - Lisa Barth for her wire work, Sheila Davis's Lampwork beads and of course popular crafters like Mark Montano and Susan Lenart Kazmer