Meet #FeaturedMember and crochet lover VaNNaBaBy in Montana.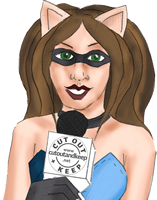 Featured Member Interview
How did you find CO+K and why did you join?
Google search. I was a stay at home mom when I found the site and had lots of time to be creative.
---
What projects are you currently working on?
I hope to start on a baby blanket for a niece or nephew that will be born in the fall.
Stats
Joined

February 7, 2009

Location

Helena, Montana, United States

Projects

5

Featured Projects

0

Favorited

40 times
What does your craft space look like?
Bed, couch, table, or desk. Wherever I feel creative. Outside if the weather cooperates.
---
Which tool or craft supply do you use the most?
Yarn & hook
---
What do you craft along to?
Music or TV
Savannah's Most Popular Projects
Favorite Craft
Crochet, although I don't have much extra time for it anymore since I work full time. I used to love making hats and purses of all shapes and sizes.
Savannah's Top Crafts
If you could learn one new craft or make anything, what would it be?
I cannot narrow it down to one. Beading jewelry
---
Who are your crafting heroes?
My mom