Newbie Vs. Vet Swap (NEW)
216
replies since 18th October 2010 • Last reply 18th October 2010
Star Leigh, I'll be your vet if you don't mind posting to Scotland, UK ?
kidddoooo!!!! i got your package, and i think i love you. it's so awesome! and it's double cool how you have the little image with your address
i'll be back very soon to show off my goodies

btw, how many swaps do i need to do before i become a vet? i've seen some debate on this and well, i can't remember seeing a definitive rule. i would love to do another swap, but i'm leaving for france in about two weeks... and won't be back home until february next year.
Em,
You can join any swap (that is still open for sign ups) at any time. Although most hosts prefer that a newbie has completed this swap, it really isn't mandatory. ;)

If there is a question about your newbie-ness, I'm sure kiddo wouldn't mind if you listed her as a referral when signing up for another swap. Just remember though, if you sign up for a swap now, you'll still have to finish it and send it out...even if you're in France. ;) Otherwise, wait till you return and pick back up again.

Congratulations on completing your first swap. It's addicting, isn't it?
NoraC and I are partners now!
Thanks for the updates gals! Spooks and Odd, I'll take you off the list when the other package arrives.

Odd, you did an awesome job. (I still owe you some inchies, I think) ;)
Lucy Star's package has arrived from Norway and is beautiful.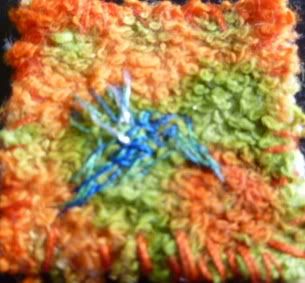 Her brief was to make some crochet pieces for me to include in creature-making.I love way she attached these to drawings very clever and the amazing hummingbird Inchie.
This is a great first swap-hope to see more.
I'd like to add that I've done a swap before on another website and that I don't bite.. if that helps.
Hey... to whoever runs this swap (I'm assuming Dessah now) I've got someone that MAY be interested in doing a swap. I told her I'd be her vet partner, since I've done this and I'm doing two other swaps atm.

Erm yeah she's not 100% sure if she wants to do it yet and I told her I could only do it after xmas as I'm swamped atm as it is.

If she does want to do it, would it be alright if we take part seperatly?
Of course, silly. You don't need my permission. ;)

HAPPY SWAPPING!
I sent michelle G's package today
Dessah-can you removed Julie H from the list.I've had no reply from her so we'll just list her as incomplete.
All's well with Ani W.She's hoping to post in the next few days. Will take a while from Germany to the West Coast of USA
ok, i'm back with pictures of the stuff kiddo sent me! now i'm not quite sure how to post a picture so let's wing it...




yay! it worked! sorry about the size
Sign up
We'd love to know what you think - Leave your reply right away
Sign up in one click using
Google
Facebook
Twitter
Or using your email address