IRON MAN themed party
hi everyone!
my boyfriend turns 27 next week and I'd like to make him an Iron man themed party!
you may thinks he's grown up for this kind of things but...well you know how guys can go back to teenage all of a sudden with some explosions

any idea is more than welcome: I don't have a lot of time and is going to be just a dinner with a few friends, but I'd like to make some decorations.
I'm going to cook a ring-shaped cake and put a light in the hole
too silly?
thanks for your help and suggestion!
8
replies since 8th June 2010 • Last reply 8th June 2010
That sounds AWESOME! I want an Iron Man party =( don't have loads of ideas, you know in Iron Man 2 when he's thrown the big party and the girls are dancing behind him? You could dress up like them or put them up around the walls.
ahahahha that could be an idea

I'm thinking of red and yellow napkin and plastic glass/dishes etc...
I've also found this http://toy-a-day.blogspot.com/2010/05/from-archive-day-2-iron-man.html
I could enlarge and print some of those paper iron men and dispose them around the house or garden.... they could be lantern as well!
place card with the name of the characters... he's going to be tony stark I guess

and of course AC/DC soundtrack!
I'm getting carried away
Sounds like a lot of fun. My husband LOVES Iron Man. Every time a preview would come on, he'd get really upset if I turned the channel. I'm like, "but you've seen that same commercial 27 times! You know it by heart!" And he'd get mad and say, "but I let you watch housewives of New Jersey...." So I have to turn the channel back. (I'm king of the remote in this house) lol

Don't forget to enter what you make into the "make something for a man" thread! We're slowing down on entries and you may want to double your chances of winning! Can't wait to see what you come up with! I might steal your ideas for Josh. ;)
thanks dessah!
after I wrote the post this afternoon, I've been to an electronics shop (don't know how do you call it...) and found this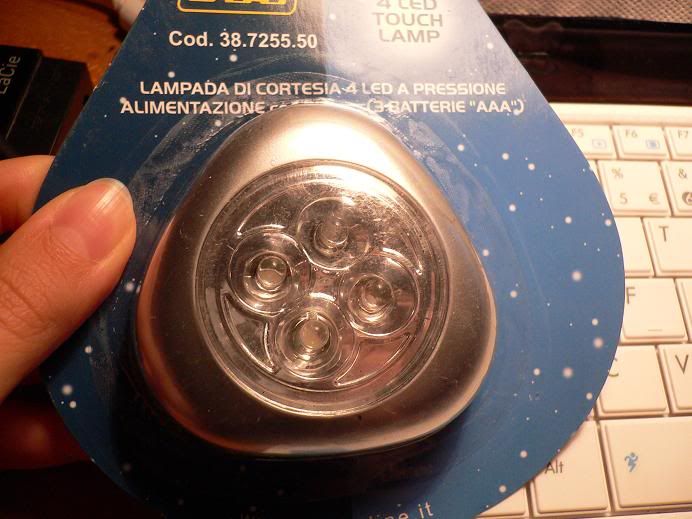 which is a 4 led touch lamp powered by batteries that costed me the ridicoulus price of 2€ and that I'm going to put on a T shirt

I'm so happy!
That light is PERFECT!

You're so cool. He's gonna love this.
Ooh is that one of those stick-on ones? My boyfriend might be going as Tony Stark to Halloween and we wanted to find a light like that to put underneath his shirt. He's either going as Stark or Dexter (from the TV series Dexter)
yes it is a stick-on one
there was also a bigger, round, perfect one, but it was a bit pricey, I think this one will work good as well..
I going to buy gloden ballons and draw the helmet on it with a black sharpie
If your thinking Iron Man 2 there's an awesome framed stars and stripes flag picture just as he goes in to his Lab.The flag has been cut into 3" squares and the pieces rotated and laid out a bit like my first inchie set . Pop into an upcycled frame from the thrift store and he could have his own version.Currently flags are way cheap ahead of the 4th at target an the like.
Sign up
We'd love to know what you think - Leave your reply right away
Sign up in one click using
Google
Facebook
Twitter
Or using your email address