How can I modify this dress?
I just bought this dress for next to nothing on sale at a shop, so I can modify it. When I told my mother how much it was she immediately shoved the money in my hand because it's so ridiculously cheap for a dress like that (she normally refuses to buy me any clothes). The price label said it was R59 (approximately €5.50), then when they scanned the barcode at the till, it turned out it was even further reduced to R39 (€3.50!)

Anyway, enough about how much it was, I can't think of ideas of how to modify it and would love some ideas!

This is the dress: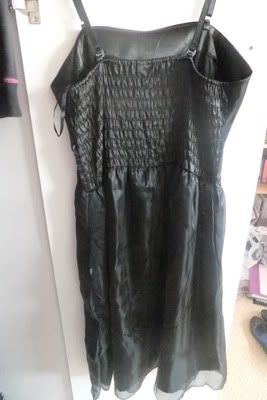 It's actually 3 sizes too big, but it was the only one, so I'm going to make the back section smaller already, and make it a more flattering shape around my chest and hips. Other than that, I'm not sure how I should modify it..
13
replies since 18th November 2011 • Last reply 18th November 2011
I see that it has some pleating at the top of the skirt, so if you want a bit more volume, you could add a petticoat underneath.

http://www.cutoutandkeep.net/projects/worlds-simplest-petticoat

Martha Stewart's website also has a pettiskirt for girls that can be easily changed in size, but it's a lot more complicated.
I'd take the bow off and decorate the bodice with some round studs and make the skirt fuller.
remove the bow add some buttons down the front and replace the straps
remove the bow add some buttons down the front and replace the straps
remove the bow add some buttons down the front and replace the straps
I agree with Monika.
If you want to embellish it more (and easily). Try adding some stud's, or sew on charms around the boobs/bodice.
And to easily make it fuller, try finding (or making) a tutu like underskirt. then u dont have to actually fool with sewing on the dress.
What look are you going for? Do you want to wear it as an everyday dress or a going-out dress?
I was thinking a casual / smart casual look. I don't know why everyone's saying I should remove the bow because that's why I liked the dress in the first place
If I were you I would loose the bow right off the bat lol...that being said. If you could find a way to lower the waist line it would probably be more flattering. You could consider using the scraps from taking it in to lower it or possibly make it wider, the fullness in the skirt seems like it sits to far above your hips making your torso look short, I could be totally wrong though considering I can't see the rest of you in the picture.

If you want to keep the waist line were it is you might want to let out some of the gathering in it. It seems like its doing a strange weird big in the waist and gets smaller towards your knees, that could also just be the angle of the photo too.

I think it would be super cute if you could find some way to bustle up the skirt of it, and throw some leggings on underneath that. Not exactly casual look though.

Whatever you do it's probably going to be tricky, looks like it's got some chiffon like something overlay. I never really know what to call that fabric...it always reminds me of curtains.

Maybe there's way to give it kind of a summery look, that would probably compliment the rouching (?/sp?) in the back.

O O ooo. Since its too big you could just say never mind to keeping it a dress and turn it into a skirt. Leave the bow and turn it all around backwards to the bow is in the back. You may have to shorten it and add in some other seams to counter the seam in the front (if you were to turn it around) I can't tell if there's one in the back. Dango you could pair it with a plain-ish corset and rock it super awesome style.


Hope that helps.
I like the bow. I think you should move it to the top of the dress though. Add a white panel on the front with some buttons to look like a tuxedo. You could even make the white ruffled if you want to make it more old fashioned.

http://www.etsy.com/listing/62779400/limited-edition-new-york-couture-love

Pair with red lips and winged eyeliner.
Your could add a bustle out of black tulle and put the bow to the back
Studs are always cute!! You could also sew on some chain to make it hang from the top. Or sew chain to hang off the shoulders.
Mmm remove the bow and the straps, modify the top to make it more of a true sweet heart neckline and wear with a fabulous belt
Sign up
We'd love to know what you think - Leave your reply right away
Sign up in one click using
Google
Facebook
Twitter
Or using your email address