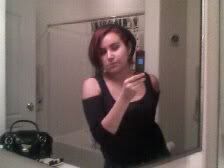 I have been gone for like a year, or maybe it only feels like a year.

Maybe I am just over exadurating. I have a few hours before work so I thought I would post something. Anything. A lot has changed since I was last on here. I moved out with my boyfriend into a brand new house, no longer am some closet crafter but more of a fashion addict and party girl. It is kinda funny looking back, all of the people who made fun of me in highschool coincidently turned out ugly-haggard, with a lot of kids and are stuck at home. Anyone else have something like that happen? You ever find out what happened to the people who teased you in school?

I work at Edible Arrangements. It is a part time gig but still majorly cool. I am a customer service rep so I gotta take orders and do dishes occasionaly. No big deal. Gotta make that money man!

With crafting, I have been lazy but since I joined back up I hoped to be able to put up new stuff every day (If possible). I am really going to try and go strong with my pearler sprites and do some scrapbooking here and there. Maybe some large paintings too if I can come up with the cash. I also want to get into doing yoga. Crazy right? Well I need to work out and jogging around the neighborhood isn't doing it for me. Especially since I live in the hottest place in hell. Arizona~ Alright, well time to get dressed and go to work. I'll see you guys late.

QUESTION OF THE BLOG: Would anyone be interested in seeing makeup looks here on my blog? Maybe Fashion looks? I saw some other girls doing it and was wondering if anyone would like to see that?
Share
Follow
Comments