I had a very good Mother's Day on Sunday, everything seemed to run smoothly. Since getting the crafting bug I've been making gifts for friends and family rather than buying things and that's just what I did for Mother's day. I spent the Saturday crafting and buying last minute craft bits and pieces for the gifts. I finished it all just in time. My mum seemed very pleased with the gifts,I was quite pleased too, if I was her I would have liked them as well. Recently I've been trying to give really good gifts to my mum as when I was little I just gave her last minute items that she never used - like the time when I bought her bath salts when she only takes showers(what was I thinking?!?) On the day we went to a buffet restaurant called Sizzler's for breakfast- it was sooo good! I couldn't eat anything else until dinnertime, I was so stuffed! They also gave all the adults a free glass of wine as a mother's day gift - how kind! Here are her presents....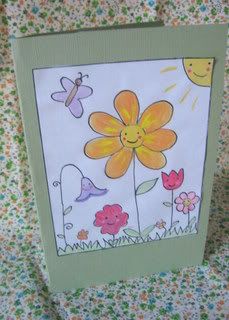 The card- my very fist go at using my watercolour paints and my first proper illustration-I need to sign my name on it. It didn't turn out exactly as I imagined but not bad for my first go.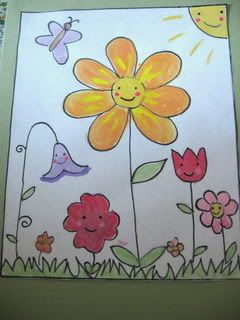 A closer view of the picture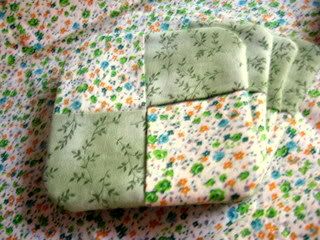 I made these criss-cross fabric coasters for her,quite simple to make in theory but all up they took me about 6 hours or more! That was my first proper sewing-machine job so hopefully I'll get faster. I really love these and they match our lounge room too.
This is some perfume I made her using Cat's tutorial. I was very lucky to find empty perfume bottles at the local pharmacy and at a cheap price too.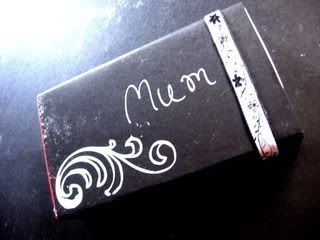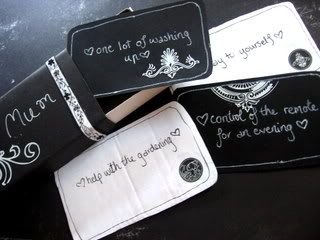 This is one on those giant matchboxes that I decorated and filled with homemade coupons for chores and the like. The picture shows just some of the coupons. I made good use of my rub-ons on this project and it really makes a nice touch.
This is the only store-bought present I gave her. It's a kitchen timer in the shape of a toaster-super cute! I just wish some toast would pop out when the timer rings! Well, bye for now all,I don't think I'll be crafting for a while, I have to study for my first exam which is in 2 weeks-aaah!!!
Share
Follow
Comments