Win a cake pop maker from Nostalgia Electrics! · Closes January 6th, 2013
Details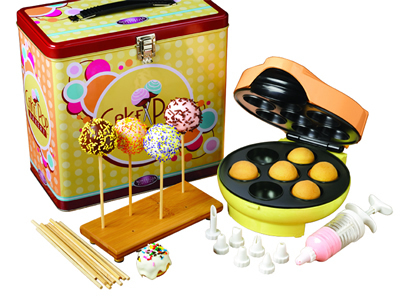 Turn your kitchen in to a cake pop bakery this month with Nostalgia Electrics! We've got an amazing Cake Pop Bakery Kit for one lucky winner and Cake Pop & Donut Hole Bakeries for two runner's up in our latest baking contest.
Here's some more info on the Cake Pop Bakery Kit:

"Bake delicious cake pops, donut holes and other pastries at home without even turning on an oven! Make different flavors of cake pops, jelly donuts, puff pancakes, mini cinnamon buns and more. It's great for snack time, party time or anytime! With the handy decorating set, you can inject donuts with a variety of fillings or decorate cake pops with colorful frosting. Display your sweet treats on the included cake pop holder. You can also bake delectable appetizers and hors d'oeuvres in minutes."
For your chance of winning, simple enter any baking recipe you've made below. You can enter up to three times, so good luck!
Please note: winners must be located in the United States to receive the prize.
Get your own cake pop maker and check out lots of amazing retro cooking equipment at Nostalgia Electrics now »
The contest has closed - winners announced soon!
Prizes
Cake Pop Bakery Kit
for the winner
Won by:
Cake Pop & Donut Hole Bakeries
for the runner's up
Won by:
Winners!
Latest Entries